My basic hypothetical for delegation of contractual duties goes something like this:
You have a contractual obligation to mow your neighbor's lawn for $35. But, when you wake up in the morning it's a nice day so you decide to go to the beach. Before you leave, you delegate the duty to mow the lawn to your little brother. Must the neighbor accept performance by your little brother? etc.
Well that simple hypothetical will likely give way to this one:
You have received a $10,000 advance from a promoter who has booked you to engage in a prizefight. On the day of the fight, you delegate the duty to perform to your twin brother. The promoter recognizes that the fighter who showed up for the fight is not the fighter that he engaged because your twin brother is missing your distinctive tattoos that were featured prominently in pre-fight publicity. Must the promoter accept performance by the twin stand-in?
In the "truth is stranger than fiction" category,
meet the Canseco Brothers, Jose and Ozzie.
Jose, the more famous of the retired major league baseball playing brothers, has been making a showing on the prizefighting side show circuit. These geniuses actually
cooked up this "Parent Trap" style switcheroo
.
One of the exceptions to delegable duties is for those involving personal judgment and skill. Including, perhaps, those involving questionable judgment, suspect skill and ... distinctive tattoos.
The Canseco twins: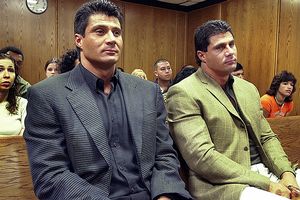 Jose and his tats (one can see how they thought no one would notice):
Apparently Ozzie (see, no tat) at the fight venue, prepared to perform Jose's contractual obligation:
Source:
http://larrybrownsports.com/darwin-nominations/ozzie-canseco-stands-in-for-twin-brother-jose-canseco-in-boxing-scam/60696/attachment/ozzie-canseco-boxing1
One of the Canseco brothers (purportedly Jose) fights Danny Bonaduce of "Partidge Family" fame wearing a body suit simulating tattoos.