The British
Advertising Standards Authority
has
taken action to ban
a Christian Dior mascara ad featuring Natalie Portman. The ad portrays results that cannot be achieved by use of the product. The agency ruling noted that Dior called the ad portrayal as "aspirational," admitting the lashes were re-touched after the photo shoot. In the US, the FDA and the FTC have periodically
taken action against cosmetics advertisers
. But in this case, no complaint has been made.The British regulatory action followed a complaint by a competitor. In the US, apparently, no one wants to "throw the first stone."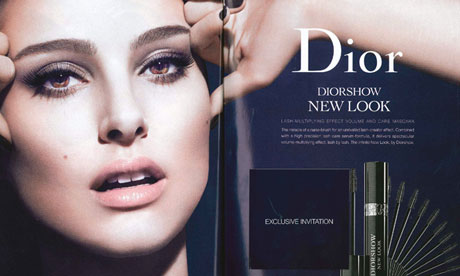 The Cover Girl ad featuring Taylor Swift, below, was pulled
after the National Advertising Division of the Better Business Bureaus found it to be misleading. The Government didn't even have to get involved here. Of course, the case was easily made since the ad's small print stated, "Lashes enhanced in post production."
Related posts on Deceptive Advertising:
Activia ad
,
Ralph Lauren
.